Arthritis support and joint health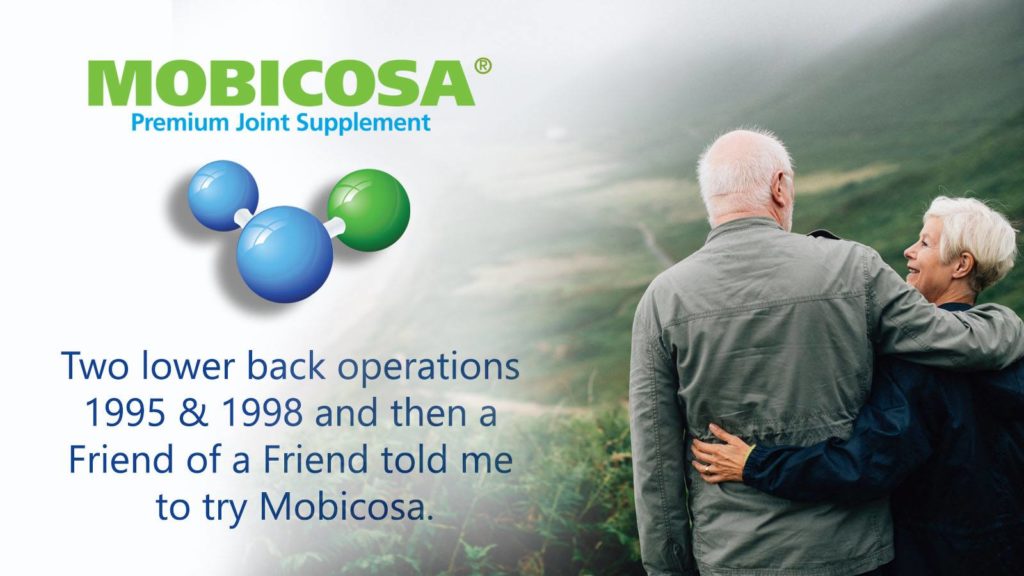 I have been using Mobicosa for a few years and find the service at Natural Health New Zealand excellent. I used to use Petflex(now Technyflex) for my dog who was diagnosed with arthritis at age 6 months. When he was using petflex he could run and play with other dogs with no pain or stiffness the next day. I get very little, if any pain in my thumbs!
Aileen Iggo
Auckland, New Zealand
As a keen runner I decided to try Mobicosa® to aid sore joints and in particular, an aggravated hip injury. Taking 4 capsules initially, and then reducing down to 3 per day, I was impressed with the results as after only a period of 2-3 weeks I noticed a substantial difference in the movement and stability of my hip injury, and can now run pain free. I was also not expecting an added benefit of the product which was noticeably smoother skin, and healthy hair and nails.
Vanessa
Auckland, New Zealand
Having suffered with excruciating back pain for a week, i decided to try Mobicosa. Within 2 days of using this product my pain disappeared! I'd highly recommend these capsules to everyone suffering with joint problems.
Clinton
Auckland, New Zealand
I have been using Mobicosa capsules for the past 6 months. The service is always very good and I have experienced great relief in my knee problems.
Mark
Tauranga, New Zealand
'Our 13 year old dog was becoming quite lame and stiff but since taking Technyflex Canine he moves freely with no sign of limping. Coming off the product for a 10 day period (we were on holiday)-he showed signs of being lame and stiff once again. This showed us just how well Technyflex canine has worked on Suman. I have always found the service very friendly and prompt when purchasing online or over the phone.'
Jane Laurie
New Zealand
'Our 12 year old lab has been taking Technyflex for about a month now and we're seeing him become more active and frankly, happier. When he's up and moving, there's definitely more pep in his step and he's back to cruising the property with his brother which he had begun doing less frequently. We have to believe that Technyflex is the reason!'
Cindy C
'The daily dose of the Technyflex Canine capsules helped our dog Bella put the bounce back in her step. Walking and running is much easier. She's much more mobile and wanting to get up, run, and play. Her quality of life increased dramatically.'
Ricky M
'I have an 11 yr old GSP who had been suffering with arthritis in his knee. He was slow and in pain, but still wanted to run. Upsetting to watch him struggle, I decided to try this product, (other things were not working anymore). He is now running, and ran with me on the quad the other night, the pain has eased up so much for him and he is hardly even stiff in the mornings. I LOVE THIS PRODUCT! Thank you so much, from him and from me. I suggest anyone try this product, you seriously have nothing to lose.'
Leanne Sharman
'Gwen is a 10 year-old American bobtail. So with her stubby tail she has almost always walked with a limp and hip issues, it made me feel so sad to see her this way. I heard about you from the Conscious Cat and have heard great things about Green Lipped Mussels (I feed my cats Ziwi Peak when I can because it is so good!). I tried Technyflex Feline Joint Supplement and about a month later she started to be more energetic and limp less. Poor baby has a cardiomyopathy so she is on tons of heart meds, but with that under control and this medication you would never know anything was wrong!'
Sarah W
'My 3 year old cat Nala had an unfortunate accident as a kitten and was very slow to recuperate. Not being one to sit still, Nala found it difficult having lost her energy and agility. When she did behave as she had before the accident we noticed a swelling around her joints and general fatigue. We decided to try her on Technyflex Feline as we had heard of its high level of Omega's and the anti-inflammatory effect it has on animals. The results have been amazing. Nala is now back to her old self. She has energy and is able to race around all day. There were no adverse side effects. We are thrilled that we tried Nala on Technyflex and she now has her mobility back.'
Wendy
Nelson, New Zealand
'Joint health is the most important thing in a dressage horse so we choose to use Technyflex to ensure that our horses stay happy, healthy and fit to perform.'
Brett Parbery
International dressage rider - Penrose, NSW, Australia
'Technyflex Equine Powder is magic on the horses. Choppy short actions become smooth and the horses quite obviously more comfortable and relaxed. The service at Natural Health New Zealand was fantastic - fast and efficient! I am now starting myself on the human product - Mobicosa.'
Mike
New Zealand
My horse, Blue, suffered from an abscess so he was out for a while. I competed on another horse and recently gained my Open Rider status. I've been taking Mobicosa and have found it extremely helpful. I also found that giving Blue an increased dose of Technyflex during the time he had the abscess meant I was able to get him off the bute much more quickly. It's been extremely helpful in accelerating his recovery. Blue has finally become an Open Horse and I'm now an Open Rider which allows us to now go for FEI star ratings. We're aiming for at least a 1* rating by the end of the year. When I last competed him he was feeling great - he's coping well with the training - Technyflex is helping his body all round
Trish Dakin
Endurance Rider, New Zealand
Sign up for exclusive offers
(*) Yes, I wish to receive electronic promotions, special offers and new product information from Joint Supplements New Zealand. I understand that I can unsubscribe at any time.
Follow us on social media